Everything You Need to Know About the Dusty Flowerpot!
WHO WE ARE
​
The Dusty Flowerpot Cabaret is a non profit society dedicated to creating and supporting original work of physical theatre in stages both traditional and site specific. Since 2013, we operate from our studio The Dusty Flowerpot, which is also available for rentals. The DFC creates large scale musicals, small scale roving acts, and festivals. On a regular basis the DFC produces the well- loved and community-involved Parade of Lost Souls, the weekly Swingout, which features a Dusty house band led by Joe Abbott welcoming all musicians to sit in, "Third Thursday Cabaret" and a weekly "Clown Gym" work out for anyone who has clown or physical theatre equivalent training. All of these events are offered by donation. Please contact Kat Single-Dain, Artistic Director since 2013, to get involved with our season of activities, as there are many many opportunities!
​
OUR MANDATE
​
To create and present multi-disciplinary arts events with a focus on community engagement and artistic excellence.
WHERE WE'VE PERFORMED
Made In BC – Dance on Tour
Vancouver Folk Festival
Vancouver Fringe Festival
Vancouver Summer Live:
125 Anniversary Celebrations
In The House Festival
Tremors Theatre Festival
FUSE at the Vancouver Art Gallery
North Shore Women's Centre's
Crimson Cabaret
Push Festival
Vancouver International Film Festival
Japanese Multicultural Procession
Vancity Members Day
The Shadbolt Center for the Arts
The Russian Hall, Strathcona
Vancouver Car Free Day
Parade of Lost Souls
FulFord Hall, Salt Spring Island
Injest: Festival of Clown and Play
Museum of Vancouver
Waldorf Hotel
The Vancouver Club
OUR COLLABORATIVE HISTORY
Dusty Flowerpot Cabaret was formed in 2006 on a rainy winter's night in a Strathcona, Vancouver art studio, when a group of local artists met over red wine and blue cheese and decided to collaborate.

Their first show together The Valley of Ashes premiered in November 2007. The story of a boy on a quest with a flowerpot strapped to his back sparked the imaginations of audiences was written by Ari Lazar and became a spring board for collaboration between the cast members. The unique style of presentation combined storytelling, pantomime, puppetry, dance, original music and masks. The play was presented as storybook of forgotten fables, a multi-media tapestry. The shows ended each night's performance in a community dance party and a tradition was born. The Valley of Ashes was remounted the following May 2008 for a second sold out run.

In 2009 the DFC returned with a 5 evening run of an all new show The Listening Jar, this time teaming up with Pivot Legal Society to create a show that explored the theme of 'Justice'. The play was a dark immersive fable, telling the story of a girl who finds a song in a jar and goes up against her totalitarian society in order to find the truth behind the mysterious melody.

In December 2010, the DFC produced The Village Project -- a weekend long immersive miniature village complete with a treehouse, an art gallery, farm stands and shops, a hair salon and rumors of secret moonshine down a hidden alleyway. During the day at The Village you could visit a fortune telling DJ, buy a leather beard that is also a bag, or a slice from a pie that looks like a bird's nest. During the night the Village square filled with "villagers" (audience) to watch the nightly Vaudeville show and dance the night away to live music.

In spring of 2011, having received funding from The Canada Council for the Arts and the Vancouver Foundation, the DFC produced Hard Times Hit Parade. The original script, concept and direction by one of the Dusty founders Kat Single-Dain, this theatrical re-enactment of a depression-era dance marathon incorporated swing dance, puppetry, clown, video and live music, created collaboratively with its dancers and players. The show's multi-character narrative weaves together stories of competing couples with central themes of economic collapse, environmental decay, and the value of community. These themes were felt both on and off stage, where every single show ended in a dance party--sometimes all night long. Hard Times Hit Parade enjoyed an immensely successful month-long run, selling out its hold over shows in less than 10 minutes. The production was nominated for Critic's Choice at Vancouver's Jessie Theatre Awards, received rave reviews, and is now in post production as a feature film.

Partnering with Made in BC in 2012 – Dance on Tour, Single-Dain and a touring cast played Hard Times Hit Parade throughout BC, presenting in Golden, Kelowna, Courtenay, Maple Ridge and finally concluded with a 61 person cast on Salt Spring Island!! As part of the tour, community workshops were hosted and participants were invited to enter the dance marathon as competitors for the first act.
​
In 2014, Artistic Director Kat Single-Dain spear-headed the next large scale Dusty production, The Scarlet Queen of Mercy. This was yet another original, interactive, music and dance extravaganza that played a month long run at Strathcona's Russian Hall.
In the "dusty" style, each player brought their character to life from the page and beyond through a collaboration with the writer/director and thereby made the show what it was through their unique contributions. With clown training as a common language of most dusty actors, unique characterizations and improvisations was a key element of the show. Please see the extensive credits for a list of all the incredible players and crew of The Scarlet Queen of Mercy. Single-Dain is also directing a feature film version of the show, which has stunning imagery, seen HERE.

Since 2010 The Dusty Flowerpot Cabaret has been co-producing Commercial Drive's beloved Hallowe'en time street party, 'The Parade of Lost Souls' alongside Public Dreams. From 2014, after the dissolution of Public Dream Society, the Dusty Flowerpot Cabaret's Kat Single-Dain has continued to produce the Parade of Lost Souls. Her goal is to keep the tradition alive and well by hosting a parade that is by and for the community, with a mission to "say Yes" to the ideas that come forward from willing participants. Having arrived to Vancouver in 2001 and experiencing then the Parade of Lost Souls as a time and place where all artistic expressions are welcome and playfulness is the common language for a night, she firmly believes that the strength of the event is equal to its community involvement.
In 2018, the DFC began a new adjacent tradition of The Parade of Little Souls. After starting a family of her own, Single-Dain envisioned a new, related event aimed at children and families. This would happen at the top of the night, 7pm, lead by local children's brass band Greenhorn and Tim Sars (leader of the epic Carnival Band). A beautiful aspect of the 2018 and '19 parades, The Parade of Little Souls will continue as part of the event into the future.
​
In 2023, Single-Dain was the creative director for Disco Inferno, half discotheque set in 1976 and half musical comedy. Disco Inferno featured original music by 2021 Best Comedy Album Juno nominee, Shirley Gnome, and creation/direction by the Dusty Flowerpot Cabaret's Kat Single-Dain, in a collaboration that can only result in the world's only interactive disco musical (that we've heard of).
The Dusty Flowerpot Cabaret continues to innovate and perform and expand their reach. Throughout the years the DFC has created both stage and site specific work for a number of organizations and events too ample to name. The 'Dusties' love to bring unique performance work to the public in ways that charm and inspire. Contact us anytime for ideas or requests. Most recently Kat Single-Dain has collaborated with the Beaumont Studios to write and direct their sold out 2019 Tim Burton themed Hallowe'en tours, The Tours for the Recently Deceased.
​
We look forward to seeing you one day again at the ol' Dusty Flowerpot where we share ourselves and our dreams with each other.
BOARD OF
DIRECTORS
​
Katrina Bowen
Ron Skolney-Elverson
Nicole Ebert
Lindy Sisson
Raina Von Waldenburg
​
"What good is sitting alone In your room?
Come hear the music play.
Life is a Cabaret, old chum,
Come to the Cabaret."
~John Kander, Cabaret
meet the

DUSTY ARTISTIC DIRECTOR
KAT SINGLE-DAIN




Artistic Director





Kat Single-Dain began her life by playing, acting, dancing and singing as a child and plans to do the same for the rest of her life. Kat is an award-winning filmmaker, critically acclaimed performer and writer/director, an established choreographer of eight full-length, original theatre productions, and an event producer since 2005. Perhaps best known in town as the Artistic Director of The Dusty Flowerpot Cabaret Society, named one of "Vancouver's best kept secrets" by the CBC, and its yearly festival, The Parade of Lost Souls. She also can be seen on a regular basis as the well-loved over-the-hill chorus girl Gloria from Gloria's Happy Hour, the character Gladys with festival darlings The Myrtle Family Band and plays with the local brass band to reckon with, Balkan Shmalkan. Kat is the creator/director/choreographer of the critically acclaimed and Jesse nominated Hard Times Hit Parade and Scarlet Queen of Mercy---two immersive theatrical extravaganzas currently in post production as feature films.
"Watching Kat Single-Dain's energetic choreography, you can almost feel the sap starting to run in the trees."
-Collin Thomas, The Georgia Straight
Hard Times Hit Parade



2011
Speed Dating & Happy Hour with Gloria




2023
Support the Dusty Flowerpot's Contribution to the Arts!
GET YOUR ANNUAL MEMBERSHIP TODAY!
​
Annual Membership with The Dusty Flowerpot Cabaret Society is available for $20 per year.
Your yearly membership demonstrates your support and appreciation of The Dusty Flowerpot Cabaret's artistic significance and contribution to the local arts scene in Vancouver. Please inquire if you would like to become a voting member.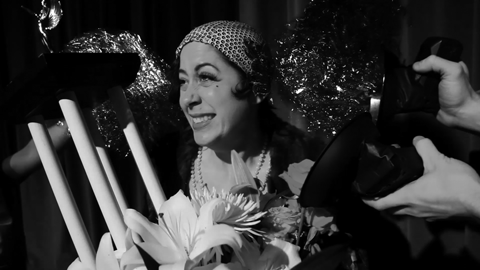 FOLLOW US ON SOCIAL MEDIA:
AD REPORT 2022 - Greetings All Readers!
This year I was given a literal, grey and green dusty pot of flowers by some wonderful highly involved members of our community and looking back on it I see this sweet gift of a dusty flowerpot that now sits on our welcome desk as a metaphor for what has been happening for the DFC in the past year; our roots are growing farther and wider than ever before, and we are showing more appreciation for each other as a community than ever before.
Firstly, our roots: With the beginning of the weekly Tuesday swing outs and the pre-production and production of Disco Inferno as well as the workshops associated with the development of Call Me CC we have reached a more diverse community of performers and audience this year than in any other year past. And though the roots grow, I am happy to say that the original seed of inspiration for the Dusty Flowerpot Cabaret, as well as Public Dreams' seed of inspiration which we also adopted into ours with the adoption of Parade of Lost Souls, is still the same. As we grow roots, buds and flowers, the original seed remains the same ... We create and support original interdisciplinary performance art which simultaneously takes a tongue-in-cheek and a deliberate and sincere approach to its reflections of life. The new projects that we developed in the past year I believe have given us the perfect balance of these intentions and -dare I say- have done so very successfully. I could start with the swing out as an example. The swing out is co-hosted by Joe Abbott leading the Dusty House Dance Band which is a band composed of players numbered among the top jazz musicians in Vancouver. I travelled down to Seattle last weekend for a swing dance event and lo and behold, who was the bandleader down south? It was Josh Roberts, the very guitarist that we have at our own little studio every week. So with a band of such calibre one might think that the vibe we create is one of exclusivity or perhaps an intimidating dance floor to be on, but the opposite is true. The vibe we are creating is one of inclusivity and freedom. People who are not swing dancers have felt comfortable week in and week out to join everyone on the dance floor, feel the music and enjoy themselves regardless of previous experience. And as such, our event has naturally spawned some intermediate swing dancers in the last season.
​
Life is a cabaret my friend. Come to the cabaret...
​
Kat Single-Dain, Artistic Director
The Dusty Flowerpot Cabaret
​
Director of productions since 2010
and AD since 2014
​